The Home Guard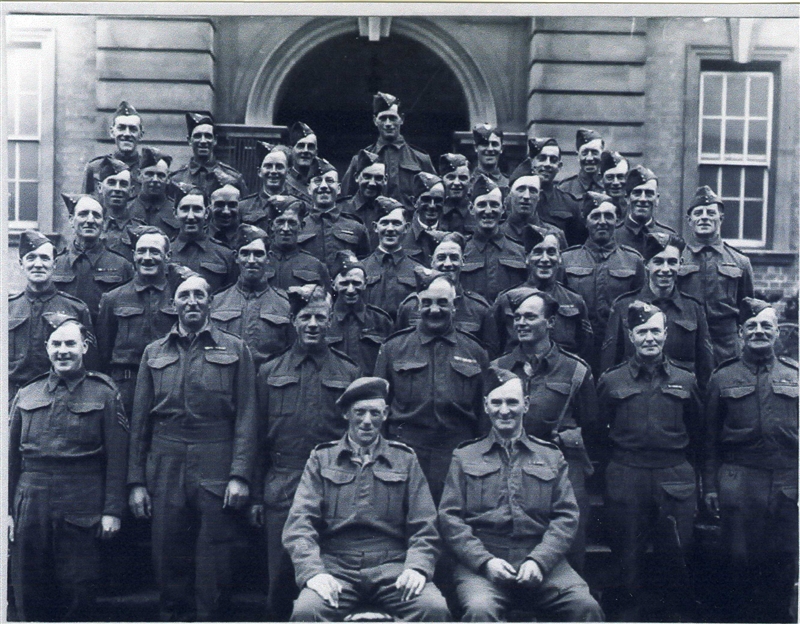 Photo and identification courtesy of Peter Carter
Ted Saunders, Mr. Jolly, Harry Keeble, Frank Lambert, Jack Curtis, Charles Mutimer
Percy Hines, Henry Clover, Harry Thompson, Freddy Woolnough, George "Dodger" Keeble, A Goodwin
Sam Copping, Mr. Harsent, Walter Moore, Pip Whiting, Robert Bloomfield, Jack Keeble
Frederick Charles "Pryke" Cook, Arthur "Duchy" Bloomfield, Nelson Rosher, Fred Stevens, Horace Smith, Jim Denny, B Fisher
Archibald "Buller" Peck, Walter Page, Percy Goodwin, E "Ducker" Pollard, Peter Harsent, Fred Parker, Jack Balaam
A "Fidgy" Moore, Bob Denny, Jim Andrews, S Hawes, George Davey, Stanley Peck, L "Liney" Miller
W L Ritchie, Arthur Smith
This photo was taken on the steps of Foresters Hall in Debenham.
Hover your mouse over the faces to link to more detail.
If you have any stories or more information on our "Dad's Army", please share them with me. I would love to hear from you.
---
After the fall of France in 1940, when Germany, almost unchallenged, poured into the country. Anthony Eden (War Minister), asked all male civilians between the ages of 17 and 65, who had not been drafted into the services, to start a new fighting force called The Local Defense Volunteers (LDV). This was later to be renamed by Winston Churchill as The Home Guard.
There was to be no medical examination and as long as you were male, between the stated ages (which was not strictly adhered to) and capable of free movement, then you were urged to enrol at the local Police Station.
Within a day, over 250,000 men had volunteered and by the end of the month 750,000 men had put themselves forward. The Home Guard comprised 1.5 million local volunteers who were otherwise ineligible for military service, and this number never dropped below 1 million.  After December 1941, male civilians could be called up to join the Home Guard.
Most men would work all day at their full time jobs and then in the evening commence their Home Guard duties.  These duties could consist of:
Manning aircraft batteries
Patrolling waterways, railways, coastlines, factories and aerodromes
Clearing up debris
Searching rubble for people who were trapped
Building pill boxes
Defence lines of anti-tank obstacles, barbed wire barriers, road blocks
Placing obstacles in fields to prevent enemy aircraft landing
Practicing guerrilla tactics
Removal of signposts
Target practice
Bomb disposal
Debenham had a garrison of 99 Home Guard (89 Class I and 10 Class II). This force was organised into:
Keep garrison - 64
Mobile reserve - 17
Defended locality (Stowmarket Road) - 18
The Home Guard were disbanded on 3rd December, 1944, with a parade in London of 7,000 men.
During WW2 the National Service (Armed Forces) Act made all men between 18 and 41 liable for conscription.  The exception were those in a Reserved Occupation.  These included railway and dock workers, miners, farmers, scientits, utility workers, agricultural workers, schoolteachers, students, police, engineers, the clergy, bank & insurance company employees, doctors and company directors.
Full list of Reserved Occupations Download pdf file
Many men in reserved occupations, frustrated at not being allowed to join up, joined the Home Guard or ARP.